DIY Signals to Outer Space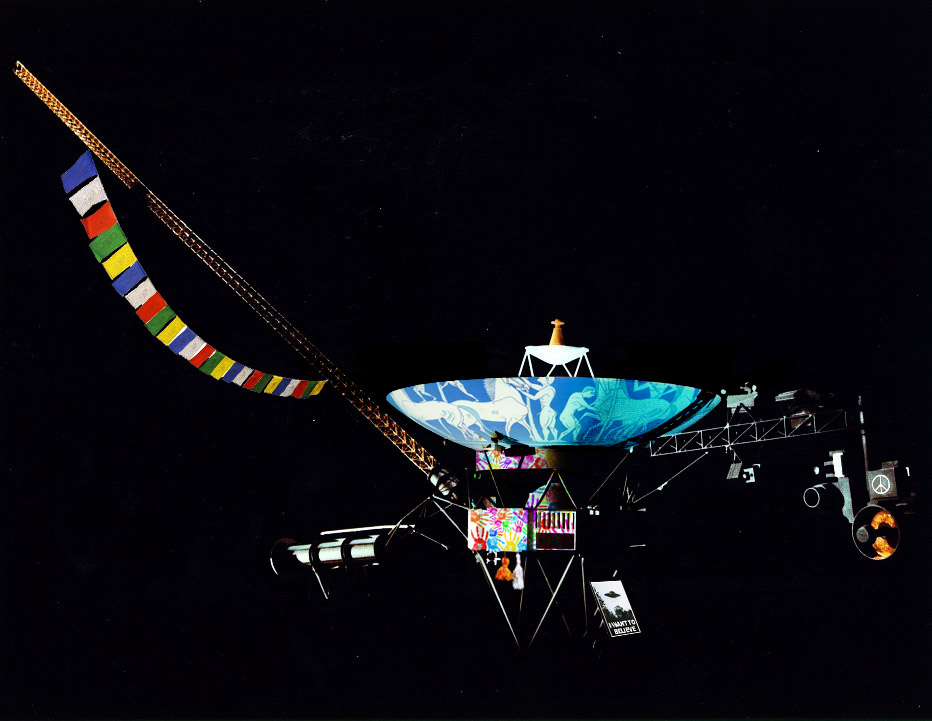 As part of the MAASive Lates: Digital Futures event, I ran a workshop with Dr Josh Wodak exploring a futuristic scenario where participants had the opportunity to have their own say in the contents of a message sent to an extraterrestrial civilisation.
We presented workshop participants with a near-future scenario involving a signal received from Proxima Centauri b. In our scenario, while governments and corporations were dealing with the signal internally and officially, we imagined that future technology had advanced to the stage that it was plausible for small groups of "citizen scientists" to respond to this mysterious signal on their own.
My design honours project, Galactic Final Memory, was portrayed to participants as a "message disk" designed to survive an interstellar voyage which would encode their messages in a special format created to be interpreted by a presumably technological civilisation on Proxima Centauri b.
I think most people have had at least some exposure to this topic, usually through science fiction films or writing, and a certain amount of familiarity with the tone that we might generally expect a message to extraterrestrials to have. Past human experiments in this area (the Pioneer plaque, Voyager Golden Record, and the Arecibo Message) have provided a template on which fictional examples are often built (Contact, Close Encounters of the Third Kind, and my favourite episode of Star Trek: The Next Generation, The Inner Light). The precise and scientific mindset behind these experiments influences both the fictional examples and, I think, the mindset ordinary people bring to the table when discussing a scenario of this type.
I was really excited to hear a number of fairly novel ideas from workshop participants about what to send. Some of my favourite suggestions were more light-hearted and more human than the ideas usually raised in discussions of alien contact. Some of my favourites:
Comedy. One workshop participant suggested sending a Charlie Chaplin film, which they and some other participants felt conveyed a sense of our species' personality. There's no way to know if human humour would be appreciated or comprehensible to ETI (extraterrestrial intelligence), but physical comedy, and the sense of physical playfulness in particular, is an experience that transcends human cultures and even our species. Some of the deepest interspecies relationships we can experience as humans involve the mutual enjoyment of physical play. And a part of me thinks that we'd never really be able to be close friends with an ETI that we weren't also able to share "play" with.

Physical culture. A participant said we should ask ETIs "what they produce" - the objects they like to make, and use. Others chimed in to tie this idea into cooking, and arts and crafts. I really liked this idea (especially as a designer) because, at least on Earth, the human daily lived experience is very much about our objects, tools, and cultural rituals. Messages to the stars often attempt to describe facts - like our DNA structure or the Earth's atmospheric composition. This information is useful, but it doesn't give much of a sense of who we are, as a species. As with comedy, there is always the potential that an ETI will have vastly different means and ways of living that render our personalities mutually unintelligible. But because our physical culture is so intimately tied to our experience of life, it seems not trying to communicate it to ETI is a grave omission, despite the chance of potential incomprehensibility.

Physical objects. All the workshop participants had a single "message disk" from my Galactic Final Memory work to use as a sort of focus to use during the workshop. One participant, responding to that, suggested the physicality of a message might be just as important as its content. Referencing the ceramic form of the message disk, the participant mentioned the ancient Venus figurines. I was really excited, because I love the figurines, and the idea the participant was raising is fascinating. The Venus figurines are compelling because they call out to a viewer across a vast distance of time. They are intimate objects, so clearly the product of a thinking, feeling being, a human just like you, yet separated by unimaginably many years - you can feel that a very tiny slice of eternity is reverberating in the object. Such objects can call out to us, powerfully, over tens of thousands of years - in certain ways objects like the Venus figurines are the only realistic prototypes we have of communicating culture across very large timescales. Perhaps this is what we need to consider attaching to our space probes - not plaques and records but objects that a human made with their hands.
This last idea in particular has stayed with me over the last few days. Although the pragmatic approach to ETI communication (asking them about π and hydrogen atoms) is well-reasoned and sensible, I think there's something very romantic about choosing hand-made physical objects, as opposed to precision-made robotic spacecraft, to carry our essence to the stars.
I would like to imagine some vessel of the future, hand-painted by the children of the world, with ribbons tied on for good luck, and little leather pouches filled with trinkets tucked behind the radioisotope generator. Like launching a scrapbook or a cave painting into space, it would carry its precious cargo of human possessions, objects permeated with emotional connection, off into the dark.
Space exploration and extraterrestrial contact are regarded as serious subjects that exist solely with the domain of respective experts. The expense, difficulty and danger of these endeavours encourages that seriousness. But contact with an ETI would be important for our species, not just for certain groups of elite experts. Many of our workshop participants, while happy to discuss what might be included in a message to an ETI, felt that their individual perspectives were less relevant, and that such a message should represent our species rather than any one particular perspective. All humans are owed participation in a communication of this type.
To enable this, we need to work against the perception that debating the formulation of such a message is a privilege reserved for the relevant experts, so that when and if the time comes, human societies are ready to participate. Hopefully our workshop was able to play a small part in reversing that perception.